Image
Image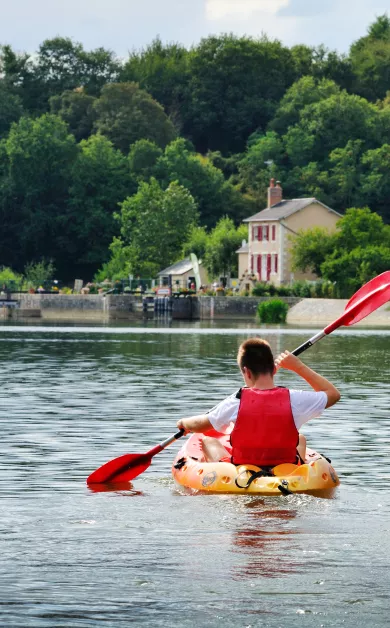 Copyright
Pascal Beltrami
Légende
Terre Activ', Vallée de la Sarthe
Canoeing-kayaking of the Rivers of Western France
Composants
Whether by canoe or kayak, these lightweight and silent boats are ideal for exploring the river landscapes and to observe the flora and fauna along the embankments.
How do you canoe or kayak?
Canoeing-kayaking is a pastime that is accessible to anyone and easy to learn. Choose between two types of boat: a canoe or a kayak. Depending on the model, you will paddle alone or with one or two other people in the same boat. 
The difference between a canoe and a kayak lies in the seating position and the kind of paddle used. In a canoe, you will kneel while using a single paddles, while in a kayak you will sit and row with a double paddle. 
To canoe-kayak, it is of utmost importance that you are a swimmer, wear a life-vest (obligatory) and wear appropriate clothing. Canoe-kayak rental agencies will give you the safety instructions and let you know which routes are appropriate for your skill level.
If you are a beginner, why not to choose a trip that is supervised by a trained instructor? Regardless of skill level, never approach the dams and always respect the safety distance of 50 metres (55 yards) upstream as well as downstream.
Image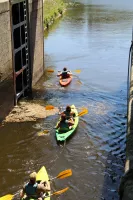 Copyright
Mayenne Tourisme
Légende
Château-Gontier-sur-Mayenne
See more of the Rivers of Western France 
A canoe-kayak tour offers the opportunity to explore routes that aren't necessarily accessible by cabin cruiser. The north of Mayenne and Segré on the Oudon river are particularly attractive for canoeing-kayaking.
How about combining a canoe-kayak tour with other activities? You could travel by canoe-kayak in one direction, and then return by bike on the towpath as an excellent alternative to discover the landscapes and morsels of the heritage of the Rivers of Western France.
 
WYSIWYG
Unusual trips or adventures on the river Sarthe
At the starting point of Juigné-sur-Sarthe, "Terre Activ'" offers unusual kayak tours. Opt for the two-day adventure trip including camping under a pitched tent. Or perhaps you would prefer to time-travel by spending a night spent in an authentic vintage caravan from the 1960s and '70s. If you can travel by canoe-kayak one way, then you can make the return journey by bike!
Image
Image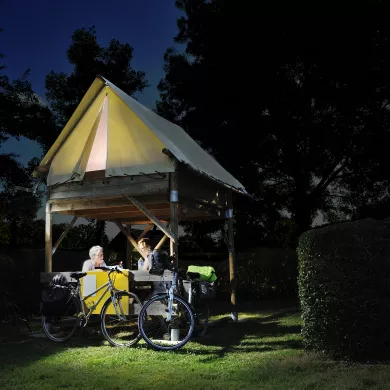 Copyright
Pascal Beltrami
WYSIWYG
A river tour on the Mayenne
Enjoy a day-long tour to see a different side of the river Mayenne. "Anjou Sport Nature" offers a tour by canoe-kayak and by bike on the "VéloFrancette" route from Daon to Jaille-Yvon (or a bit further up starting in Menil).
Image
Image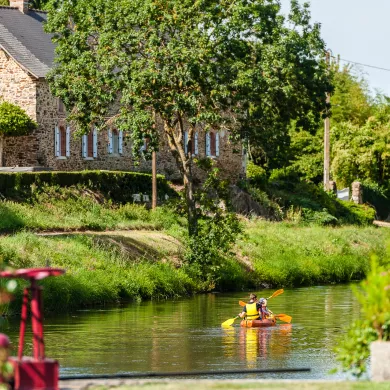 Copyright
Sébastien Gaudard
Where to rent a canoe-kayak?
There are several rental bases for canoe-kayaks along the Rivers of Western France, whether on the river Sarthe, Mayenne, Oudon or Maine. Nothing could be simpler than renting a canoe or a kayak for one or two hours, a day, or a whole weekend.